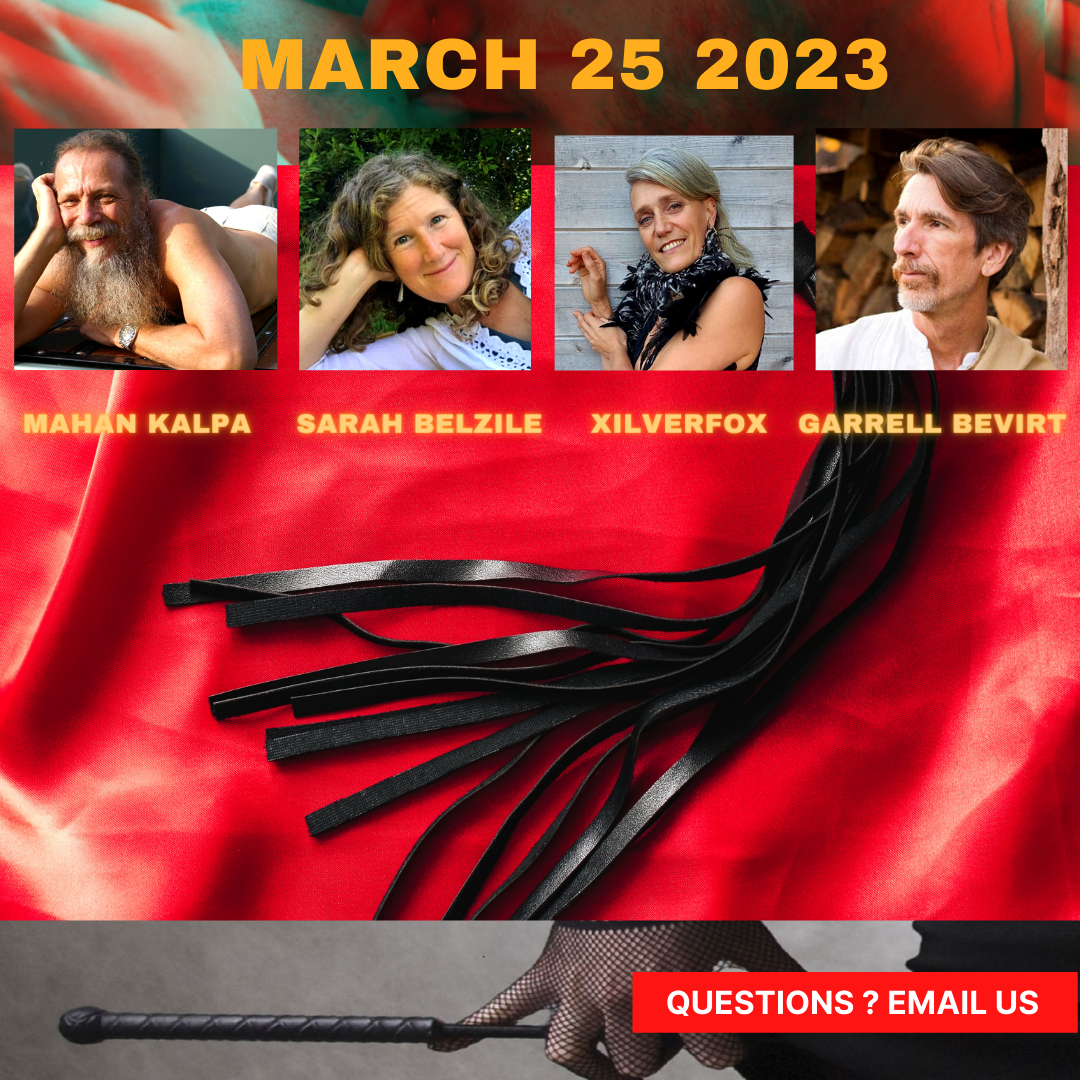 On March 25th, I'm thrilled to be co-facilitating with three friends - Mahan Kalpa, Xilverfox & Garrell Bevirt - Kink & Ecstatic Pleasure Workshop & Play Party
Come for the Intro to Kink & Ecstatic Pleasure Workshop or come for Kink Play Party OR Both of them
🌟Date: March 25th, 2023
🌟Kink & Ecstatic Pleasure Workshop - 2:00 - 6:00
🌟Dinner - 6:00 - 7:30
🌟Kink Play Party - 7:30- 11:00
🌟 Location : Dancing Shiva Queer Tantra Monastery and Retreat Center
👉 A sleep over is optional at Dancing Shiva
⭐️ What's a Kink & Ecstatic Pleasure Workshop ?
2:00 - 6:00
A place where you are safe to explore who you truly are and what you really want, where you can connect in a way that nourishes yourself mentally, emotionally and physically.
In THIS place. there will be love, erotic energy and acceptance and we invite you to set aside all expectations, and open your heart to others by asking: What do I want? How do I ask? What are my yes's, what are my no's, what are my maybe's? And how do I negotiate in giving and receiving?
🌟 Some of the techniques we will be using are:
❤️ Shibari: The Art of Sensual Japanese Bondage
Rope binds. Rope contains. Rope stimulates. We will play with surrendering to the art and beauty of body bondage. Shibari is the elegant but easy Japanese technique that combines sensuality with empowerment—whether you give or receive.
❤️ Impact Play :
Feathers, floggers, paddles, and fingers are all implements of sensation. From the lightest touch to your own comfort level of contact, We will explore all dimensions of sensation play.
** Feel free to dress with leather or sexy fetish gear, we encourage you to bring any toys you wish !!!
👉 Dinner
6:00 - 7:30
You're invited to bring your own food for dinner and socialize and welcome to share it .
👉Kink & Ecstatic Pleasure Play Party
7:30- 11:00
After the opening circle you are invited to participate in the Play Party the space is set up for cuddling, massage, BDSM play and yes, sex, you can go where your imagination, desires and the consent of your co-conspirators lead you.
as we close, we will gather back together to share our experiences.
**Please be mindful, this event is drug and alcohol free. Also - No blood, Scat or Urine.
👉👉 A sleep over is optional with a $20 donation to Dancing Shiva , please bring your own bedding.
🌟 indoor sleeping space is limited so please reserve your space by sending an email to dancingshivatantra@gmail.com
🌟Camping with your own great is available for a $10 donation.
👉Location
Dancing Shiva Queer Tantra Monastery and Retreat Center near Asheville
Important !! You must Contact Garrell at 👉   dancingshivatantra@gmail.com for directions.  He will then send you the directions that bring you directly to Dancing Shiva as well he will let you know where you can park.
This event will be held at Dancing Shiva Tantra Community at Earthaven Ecovillage in Black Mountain, North Carolina about 45 minutes outside of Asheville. This is a beautiful venue that offers the opportunity to be immersed in the natural world, including well maintained gardens and fruit trees nestled in the wilderness.
All of you is welcome, from your tender heart's longing, to your most voracious desires. We celebrate your vulnerability, hunger, strength, and joy in a judgment-free, safe, and honoring environment.
Please reach out to Mahan Kalpa if you have questions (cycleyogi@gmail.com)
👉 Each event is stand alone so you will need to register for each separately
unless decided to join both  🎟️
GET YOUR TICKETS 🎟️ AND JOIN US (Pre-Registration Required) 👇
Tickets and Events Links 👉
⭐️ Each event is stand alone so you will need to register for each separately unless decided to join both
--------------🎟️ GET TICKETS -AND JOIN US--------------------
🎟️ Both Events 2:00-11:00 $80
🎟️ Workshop - 2:00 - 6:00 $45
🎟️ Kink & Ecstatic Pleasure Play Party 7:30- 11:00 🎟️$45
PAY HERE 👇
And choose one:
🎟️ Register PayPal -
https://www.paypal.com/paypalme/MahanKalpa?country.x=US...
🎟️ Register Venmo-
https://account.venmo.com/u/MahanKalpa-Khalsa
⭐️ Come for the Intro to Kink & Ecstatic Pleasure Workshop or come for Kink Play Party, Or Both of them