A Tantric Healing Retreat
Sept 2 - 3, 2023
Dancing Shiva Tantra Monastery - Black Mountain, NC
Please join us in the mountains of western North Carolina for a weekend of conscious kink and pleasure exploration. We'll be working with the healing power of pleasure and the notion that you cannot fully connect to your pleasure without acknowledging the full range of human emotions - from ecstasy and joy to anger and grief. The flow of the weekend will include gentle introductory, warm up exercises to guide you into an experience of power dynamics play. It will culminate in the creation of a transformational personal kink scene, followed by group aftercare and an integration circle.
You will be invited to sense into deeper layers of your own pleasure, to discover ways of relating to others that help you connect to your soul and previously disowned parts of yourself. We will draw on tantric principles of eroticism, shadow work and community support to explore new realms.
There will likely be nudity at this event, so in order to attend, you'll need to be willing to witness the nudity of others. Your own nudity is not required. Similarly, there will be erotic play at this event, so attendees need to be willing to witness the play of others. The instruction for this retreat will not include any genital touch.
The workshop will be facilitated by Xilverfox (Mana Vermeulen-McLeod) and Sarah Belzile, and graciously supported by our host - Garrell Bevirt of Dancing Shiva. All three of us are passionate about conscious kink as a modality for somatic healing and personal transformation. Throughout the weekend, we will be sharing snippets of our own journeys with kink, as well as helpful tools and practices to support you in leaning into your own tender edges for growth and learning.
Who is this workshop for
Folks of all genders and sexual preferences who are kink-curious. No previous kink experience is necessary, only a willingness to explore and to show up fully for yourself, with an open-mind and heart.
Additionally, this workshop will be great for folks who have some kink experience and are curious about the more spiritual and transformational aspects of kink play.
Folks who are prepared to uphold and embody high levels of respect and consent. This work can bring up a lot of feelings and intensity. While this work can be deeply healing for those who have experienced non-consensual domination and other forms of sexual abuse, this workshop may not be appropriate for those who are in an acute state of recovering from sexual trauma. If you are unsure about this, please reach out to us directly to have a conversation about if this would be a supportive experience for you.
Unfortunately, Dancing Shiva is not a venue that is accessible for people with mobility challenges. There are steep hills and stairs. There are no flush toilets, only composting toilets.
What's possible
Identify and integrate previously disowned aspects of yourself
Learn new practices and techniques for connecting more deeply with yourself and others
Release shame and limiting beliefs around your sexuality
Freedom to try new things in a supportive environment
Grace around communicating your deep desires and boundaries
Allowing the blessings of humor and joy to guide you through the process
What to expect
The opportunity to play in a expertly held permission field of acceptance and erotic kindness
Encountering like-minded explorers
Integrate the support of the conscious kink community
Clearly guided and structured exercises and practices to enable you to explore and discover
A sense of playfulness and innocence
High levels of consent - we will use safe words throughout and you will be invited to alter the practices to make them work for you and your body
Workshop boundaries
For the instructional part of the workshop:
no penetration (oral, genital or anal)
use of safe words in all scene play (green, yellow, red)
negotiation of scene boundaries and preferences beforehand
The Saturday night temple space will be a "pink" temple - meaning that underwear stays on, and erotic play is welcome.
Participants need to be able to establish and verbally communicate their own boundaries.
Tuition $500 - includes all instruction, overnight indoor accommodations and four freshly prepared meals with locally grown and sourced ingredients
Earlybird tuition $450 until July 31st
$25 discount for tent camping
$50 discount for commuting (meals are still included, but not accommodations)
Registration deadline is August 25th at 5 pm
If you are able to contribute to make it possible for someone else to attend the retreat, please click here to sponsor another person's ticket.
Arrival time - 9 am on Saturday, Sept 2
Departure - 5:30 pm on Sunday, Sept 3
Payment plan is available. Here is a special link for making a payment plan payment. The requested payment schedule would be as follows: $150 deposit due by August 1, $150 by August 14 and $200 due before the workshop starts on Sept 2.
You may arrive on Friday evening if you like, and stay overnight, or you may extend and stay an extra night on Sunday night, for $35 extra per night, or $15 per night extra for camping.
Cancellation Policy
Cancellations with more than 72 hours notice will refund minus $100 fee. Cancellations less than 72 hours notice will receive a 25% refund.
More about Dancing Shiva
Dancing Shiva Tantra Monastery & Ashram is a special place! It is quickly becoming one of my spiritual homes. I love it because there is rigorous spiritual practice and complete acceptance of eroticism and the fullness of who we are as human beings. "The Healing Power of Pleasure" is one of the tantric principles.... see below!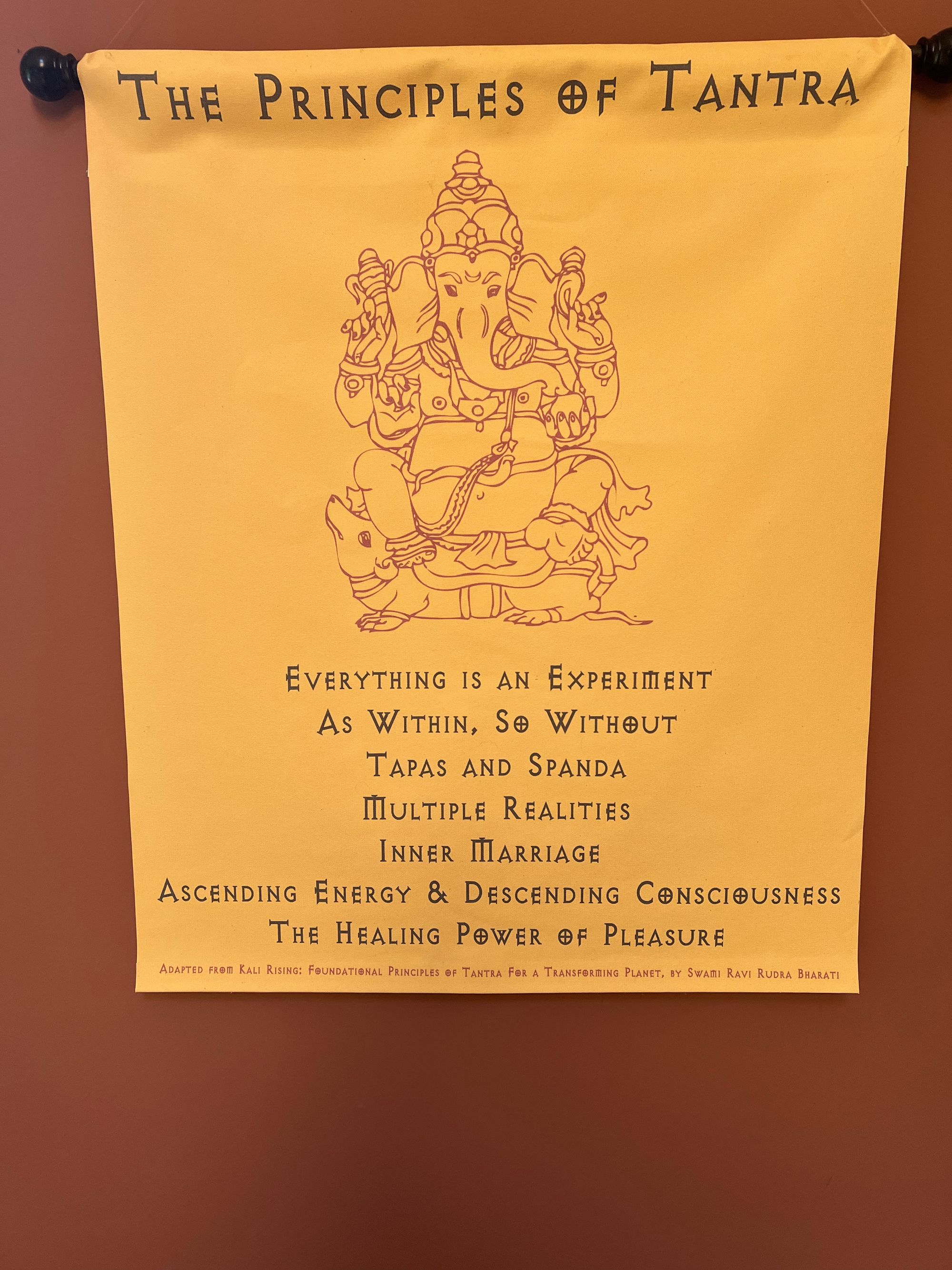 To help you get a feel for the place itself, here are some pictures: