May 26-28, 2023
Friendly Creek Acres - Stanton, KY
Do you long to feel centered, nourished and connected?
Does nature inspire and restore your spirit and soul?
Would you like to feel more freedom and empowerment in your day to day life?
Join women's temple mamas Lauren Higdon and Sarah Belzile for an experience of embodied healing sisterhood amongst the trees, moss, ferns and flowing water of the Red River Gorge.
This is an intimate retreat for 12 sisters to come together to nourish ourselves and one another with touch, movement, dance and nature time.
Start your morning with an optional meditation and movement practice before a beautiful shared nutritious breakfast. Lauren & Sarah will guide experiences to support you in releasing shame, listening to and befriending your body, expressing yourself, trusting pleasure and giving yourself profound permission to be exactly who you are. This retreat will be an opportunity to "let your hair down" and set aside the burden of performative expectations and the day to day stresses of your life. Evenings will conclude with a fire and falling asleep to the sounds of the creek and the spring peepers.
There will be clothing optional elements of this retreat. Each participant will be fully at-choice to determine what level of nudity would feel pleasurable. However, all participants need to be willing to witness the full nudity of others in order to attend.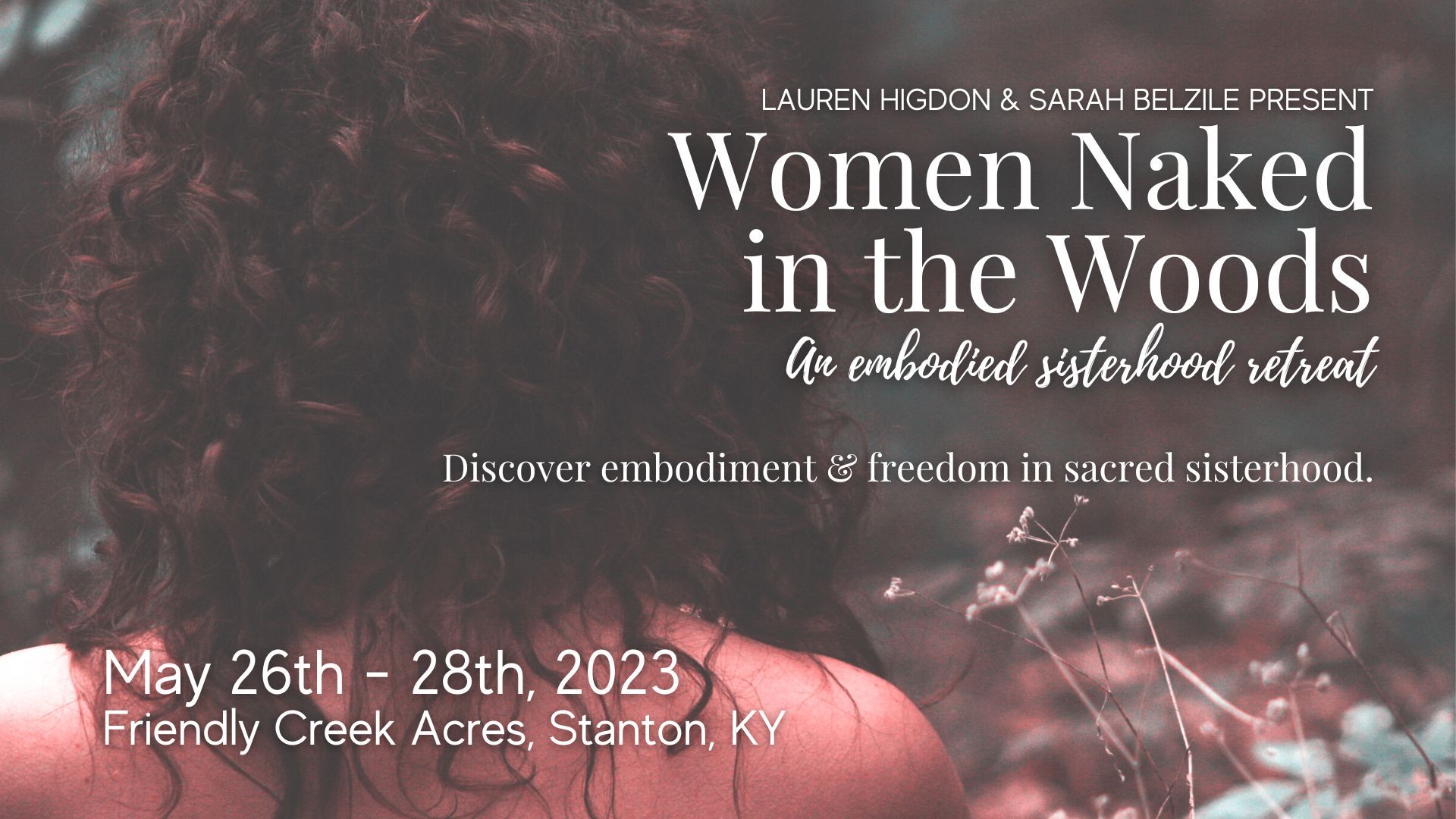 $600 per person
Early bird registration $500 (enter SPRING at checkout till May 1)
Workshop fee includes tent camping, vegetarian meals and snacks (dinner on Friday, three meals on Saturday and breakfast and lunch on Sunday), a weekend of guided experiences and nature connection.
We can accommodate most dietary restrictions, please let us know if you have any.
Hotel accommodations are also available, at Abner's Motel, five minutes away. Please make those arrangements separately by calling 606-663-4379
This workshop went SO much further than I thought it would, and exceeded all my expectations. The learnings I'm taking with me are things I don't think I could have ever studied and figured out on my own--I'm very grateful to the women who developed this vision. The facilitators and other guests made this one of the most transformational experiences I've ever had. Thank you, thank you, thank you.
Who is this for:
This workshop is for women-identified folks who would like to ground, re-connect and re-wild through an experience of group nature connection.  This is for women who know that nature is part of their spiritual path, and helps to reconnect to their innermost selves. This experience is also appropriate for gender fluid and non-binary folks, if they are willing to share some "femme" energy with the group that day.
We are able to accommodate folks with limited mobility if the weather is nice. However, if we do need to go inside, participants would need to be able to ascend the steep hill of the paved driveway and then navigate two stair steps in order to get inside the house.
Packing List
Camping Supplies (tent, pad, sleeping bag, pillow)
Comfortable and weather appropriate clothing that allows for movement as well as sitting on the ground
Yoga mat
Journal
Water bottle
Raincoat
Rain or mud boots
Bathing suit
Towel
Sarong or beach coverup or wrap
COVID Policy
We will not be requiring masks at this event, nor will vaccinations be required. As consenting adults, please assess your risk for attending and make a responsible choice for yourself and your community. We ask that you make an effort to limit your exposure the week leading up to the event. In the event that you become aware that you have been exposed, please provide a negative test result before attending.
Refund & Cancellation Policy
Cancellations with more than 48 hours notice will refund minus $100 fee. Cancellations less than 48 hours notice will receive a 50% refund